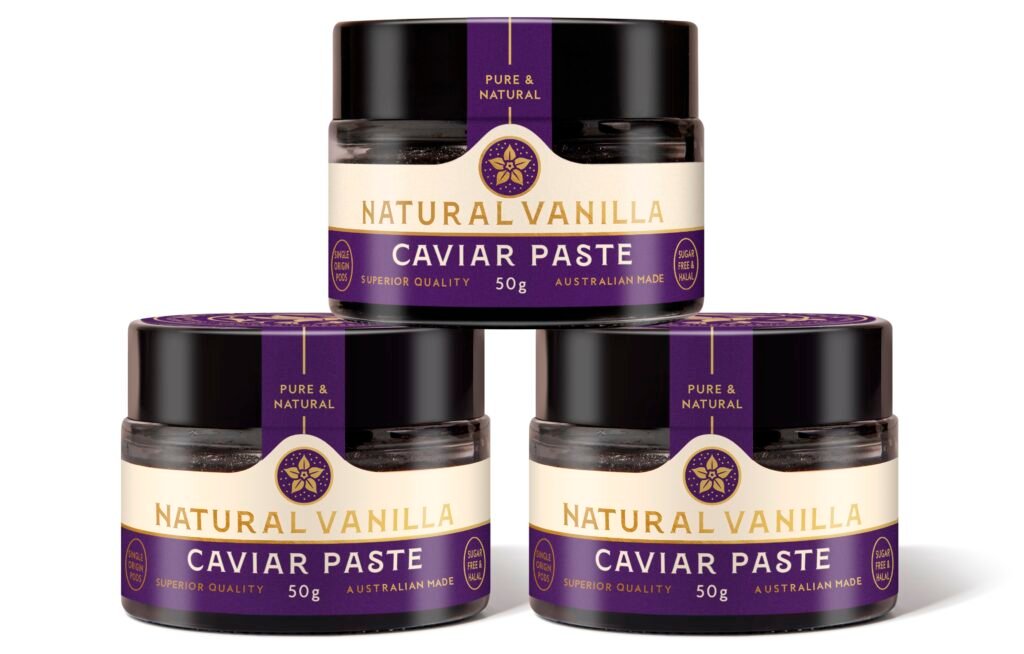 Vanilla Seed Production
Natural Vanilla Store stock a large quantity of dried vanilla seeds which are produced from separating the vanilla caviar from Bourbon and Tahitian vanilla pods during the process involved for making vanilla extract. The vanilla pods that we use to produce the vanilla bean seeds are sourced from various vanilla plantations in regions such as Madagascar, Indonesia and Papua New Guinea. The very fine particle size of the seeds makes it suitable for use for texture and aesthetic appearance in many types of foods. The seeds from vanilla pods have a delicate vanilla aroma and taste that is less intense than fresh vanilla pods making them primarily used to visually confirm that real vanilla has been used in the preparation of the food.
Vanilla Seed Uses
Many of our long term commercial customers have been using our vanilla caviar in large quantities in their prestigious fine dining establishments for the preparation of desserts such as ice cream, panna cotta, yogurt, custard, creme brule, cream caramel and cheesecake. In true fine dining and gourmet cooking not only will the exquisite genuine aroma and flavour of vanilla be imparted into the food but also traces of the tiny caviar seeds found within the vanilla pod will be seen as proof that genuine vanilla has been used in the preparation of the dish.
Quality Assurance
Many food products containing our vanilla bean seeds have been produced by our commercial customers in their prestigious dining establishments around the world. Our commercial customers require assurance that our vanilla caviar have a high level of purity, free from any harmful substances and organisms and meet international regulatory food requirements. For this reason our quality assurance requires that our Food Safety Program, Product Specifications, Certificate of Analysis and Microbiology are all maintained to international standards.
Ethically Sourced and Organically Cultivated
The Bourbon and Tahitian vanilla beans used for producing our vanilla seeds have been sourced ethically with good market rates paid to the growers. They have also been cultivated organically without the use of chemicals or artificial fertilisers. Although the vanilla pods used for producing our vanilla seeds are not officially certified organic, the vanilla pods have been cultivated using organic methods. The rich soils in the vanilla growing regions require no artificial fertilisers and as vanilla orchids have a high level of natural resistance to pests and diseases no chemical sprays are used.
Package Size Options
We stock several package size options for the supply of our vanilla caviar seeds from large 10kg carton to suit our commercial customer needs at bulk discount rates down to 200g packs for retail customers.